** see below for English
Voor het recht op abortus en zelfbeschikkingsrecht van vrouwen wereldwijd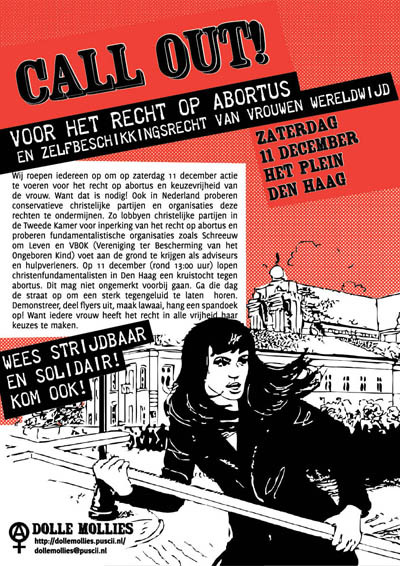 Zaterdag 11 december
13:00 uur Het Plein
Den Haag
Wij roepen iedereen op om op zaterdag 11 december actie te voeren voor het recht op abortus en keuzevrijheid van de vrouw. Want dat is nodig! Ook in Nederland proberen conservatieve christelijke partijen en organisaties deze rechten te ondermijnen. Zo lobbyen christelijke partijen in de Tweede Kamer voor inperking van het recht op abortus en proberen fundamentalistische organisaties zoals Schreeuw om Leven en VBOK (Vereniging ter Bescherming van het Ongeboren Kind) voet aan de grond te krijgen als adviseurs en hulpverleners. Op 11 december lopen christenfundamentalisten in Den Haag een kruistocht tegen abortus. Dit mag niet ongemerkt voorbij gaan. Ga die dag de straat op om een sterk tegengeluid te laten horen. Demonstreer, deel flyers uit, maak lawaai, hang een spandoek op! Want iedere vrouw heeft het recht in alle vrijheid haar keuzes te maken. Wees strijdbaar en solidair! Kom ook!
Zie ook de oproep van AFA Den Haag in post hieronder
*** English summary:
Call Out: The christian fundamentalists are going to march "for life" on the 11 of December in the Hague. This is an anti-abortion march that they do every year. We feel that something should be done to show that these kind of ideals have no place in our society. That is why we call out for actions during the demo – spread some pro-choice flyers, make noise (it's a silent demo), do a banner drop – let your opinion be heard! Because every woman should have freedom in decisions about her body!
Zaterdag 11 december 13:00 uur, Het Plein, Den Haag
Check also the call out from AFA Den Haag in the post below